[et_pb_section][et_pb_row][et_pb_column type="4_4″][et_pb_text admin_label="Text" background_layout="light" text_orientation="left" use_border_color="off" border_color="#ffffff" border_style="solid"]
One more android from ATR/Osaka U. In this latest instalment of the geminoid series, focus has been on conversational skills.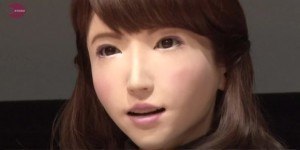 As far as the face goes, I'd like to see more improvement of the mouth and eyes region. Looking at the video below it is apparent that especially the eyes need to have more subtle motions.
[/et_pb_text][et_pb_video admin_label="Video" src="https://youtu.be/cb_tmGe3ga0″ image_src="//i.ytimg.com/vi/cb_tmGe3ga0/hqdefault.jpg" /][/et_pb_column][/et_pb_row][/et_pb_section]